It's easy to pull out all the stops with your holiday decor when you have a sprawling home with cavernous rooms, high ceilings and front and back yards. But what happens when you live in a small apartment with no private outdoor space? If approached creatively, there's no reason your limited space should limit your holiday cheer. Here are 12 easy holiday decorating ideas for a small apartment!
I'm thrilled to be partnering today with Home Decorators Collection® as part of their HDC Holiday Homes. While this post was sponsored, all opinions are my own. In fact, I chose to do this post at my son's apartment because almost every piece in his home was already from Home Decorators!
The apartment is brand new and modern, in a high rise building with two walls of windows allowing in plenty of light. The kitchen and living room are connected and that is the area I styled for this post. The space is small, but we were still able to utilize these 12 festive ideas.
1. Tartan Plaid Pillows – The decor in this apartment is normally very neutral, so the infusion of holiday color is probably the single most impactful thing we could do to spice it up for the holidays. The red tartan pillow below works really well with the neutrals and yet is a bold seasonal cue.
2. Glistening Pine Garland – With no mantel or even a sideboard to drape a garland over, we used the window sill to display this beautiful snowy garland. It lights up for evening and when placed on the wrap around sill, it envelopes the room in wintery goodness.
3. Bowl of Orbs and Pine Cones – Perhaps the easiest Christmas decor trick ever, a bowl full of glittered ornaments and natural pine cones can be added to even the tiniest room.
4. Faux Fur Throw – Nothing says 'cozy winter home' quite like a faux fur throw. Who wouldn't want to wrap up in one of these as the temperatures plunge, especially in an apartment without a fireplace?
5. Fresh Wreath – With only a bar counter between the galley kitchen and the living room, my son has a bistro table tucked into the corner of the room. If you have solid walls in your home, you can easily find a place to hang a wreath, but with wall to wall windows, we used the wreath on the dining table. A faux one would also work, but with no outdoor space, it's nice to have the smell of fresh greenery in the apartment.
6. Glittered Cone and Bottle Brush Trees – The only wall that's not windowed is dominated by a large TV. Flanking the screen with these jovial trees adds holiday cheer to this side of the room, without blocking the viewing screen.
7. Tabletop Tree with Mini Ornaments – A tiny tabletop tree is a brilliant solution for a small home, or even a small room in a larger home. These glass ball mini ornaments worked perfectly here, with just enough color and a touch of glimmer. (I kept the glimmer to a minimum as this apartment is shared by two boys.)
8. Small Poinsettia – It's always nice to have live plants at home, and this sweet little poinsettia on the end table is another opportunity to add a pop of seasonal color. You don't need a huge front entry lined with stepped poinsettias, when a tiny plant will make the same statement in your space.
9. Woolen Plaid Blanket – For another shot of seasonal red, a chunky blanket in a woolen plaid looks great folded on an occasional chair. Toss a few pine cones on top to really drive the point home.
10. Lantern with Ornaments – We used two of these ornament filled lanterns and this one is propped on the marble bar counter. (The other was used on the bistro table centered within the wreath.)
11. Fresh Holiday Greenery – Draped along the counter and stemming from the lantern I placed fresh holiday greens. These could also be used in an arrangement or tucked into any number of spots. This is one of the easiest and most versatile ways to decorate a small space.
12. Fir Entrance Trees – I saved the best for last! I'm crazy about these fir entrance trees and they can be placed around a room in a number of ways. I had originally planned to have them flanking the TV, but I'd forgotten about a new chair that was added there. Instead I preferred seeing them in a more dominant position, facing us as we enter the room.
The key in decorating a small apartment is to use things in ways that work for your unique space and not to worry about what they were intended to be used for. If you don't have a large entry way, and you can't fit a full sized tree, go for the entrance tree and place it anywhere your heart desires!
Source List – In addition to the holiday items linked above, here is a resource list for the decor in this room. Click on the items below for direct links to the products. (This post contains some affiliate links for your convenience. Click here to read my full disclosure policy.)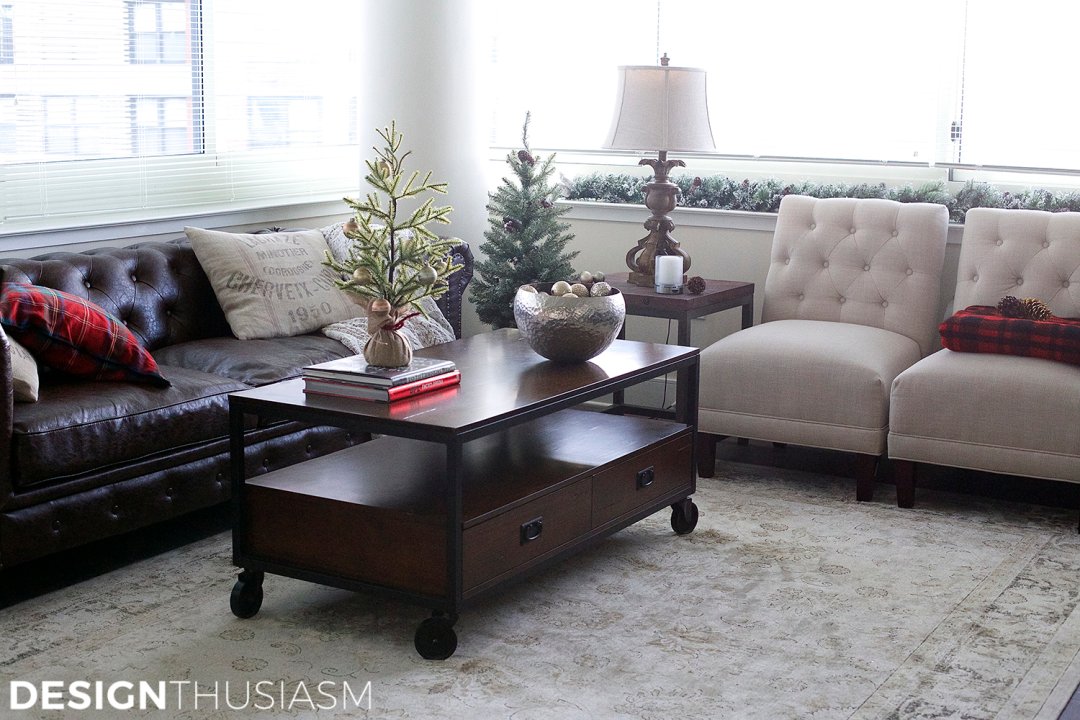 Please join us throughout the week to see all of the home tours. Here's this week's lineup!
Here's this week's lineup!
Monday
Erin Spain | The Frugal Homemaker | Chaotically Creative
Tuesday
Designthusiasm | The Rustic Boxwood | House of Hargrove
Wednesday
Duke Manor Farm | The Cheerful Home | Rachel Elizabeth Creates
Thursday
Less Than Perfect Life of Bliss | Southern State of Mind | Effortless Style
Friday
Cuckoo 4 Design | Maggie Overby Studios | Seeking Lavender Lane | Designer Trapped in a Lawyer's Body
Thank you for joining me on this tour of my son's apartment decked out for the holidays! If you'd like to see the rest of the apartment and what it looks like most of the year, you might be interested in this post: Decorating A Young Man's Bachelor Pad
~•~
Have you visited the Designthusiasm shop? Click below to shop my favorites, my home and my Amazon shop. There are new items added every week. Happy shopping!!
Shop My Favorites Shop My Home Shop My Amazon Shop
~•~
Are you following Designthusiasm on social media? Please join us at the links below:
Pinterest | Instagram | Facebook | Twitter