In this post: Looking for an upbeat look for your Thanksgiving table decor? This cheery fall tablescape uses shades of rose gold to add joy to your holiday.⇒
Could you use a little cheerful lift right about now?
Yeah, I thought so.
While I love neutrals and they often look fresh, when thinking about how to set my Thanksgiving table this year, I felt I needed something perkier than shades of brown.
I wanted it to be reminiscent of flushed cheeks, that healthy glow one exudes when coming in from a walk on a crisp fall day.
Buoyant. Effervescent. Hopeful. Optimistic.
These are the words I wanted my table to embody.
I thought about the colors that traditionally say 'autumn', then infused them with a bit of that rosy goodness and little dose of glimmer and sheen.
The result?
Rose gold.
Well, is it really rose gold? More accurately it's a combination of blush pink and rose with a mix of gold and copper.
I've never been one to worry about exact matching colors. I like the blend to communicate a feeling and this one says fall with an upbeat slant.
The Plate Stack
This is where I often start my tables and that was certainly the case here. Yet unlike most of my tables, I did not start with a pattern.
Instead I fell in love with these pink glass plates with their curly edges and sweet gold trim. They give a lovely pearlescent impression that's both gracious and celebratory, perfectly à propos for the top of my holiday plate stack.
The dinner plate is one of my all time favorites, a creamy tonal dish with a lacy texture.
(I've linked 2 options in the source list below, as these can be pricey, and also not always in stock.)
A pivotal decision was the use of the copper charger plate, as it may have been more obvious to choose gold to match the pink plate trim. But I elected to use copper to bring out the warm undertones in the pink, and thereby give the table its unique essence.
The Centerpieces
There are three key ingredients that give this table its definition, and after with the plates the next was selecting these pierced ginger jars. They are a tad more modern that my typical urns, which are often vintage with lots of rust and patina.
But for my light-hearted table I wanted a cleaner look, and they provide the perfect base for my autumnal centerpieces.
The larger one in the center presents rich fall foliage, while the two smaller ones on its flanks offer a mix of blush pink dahlias and smaller coral buds.
The Napkin and Ring
The third of the essential components is the fall watercolor napkin set, bearing a print I became enamored with when I did my fall tabletop shopping guide.
In fact, this may arguably be where the idea for the color palette first came from.
The napkins are gathered within gold twisted wire napkin rings, another opportunity to add sunny warmth to the display.
The Foundation
With the key elements in place, I filled in with my tried and true basics, including a white washed linen tablecloth with ruffled edging and my mom's silver flatware in a feminine floral pattern.
The chairs are a mix of assorted French dining chairs, with cane back and tufting in white or light wood. White linen chair covers mirror the ruffles on the tablecloth.
The Stemware
I had a choice of stemware that could go with this table and I pondered the options more with intuition than logic.
I decided to pass on the copper stemmed goblets and pink champagne flutes, in favor of these gold trimmed glasses because they simply felt more effervescent and joyful.
Another note of festivity added to the table.
The Accents
The final touch was a very simple one, adding a singular baby boo pumpkin at each place setting. They bring sculptural depth to the plate stack and finish off the look, like the cherry on a sundae.
There's a time for drama and a time for simple pleasures, and for me, right now, I was feeling the need for the latter.
So I approached my Thanksgiving table decor with levity and cheer, and a hope that the season would bring with it the fulfillment of what I see through my rose-colored glasses!
Thanksgiving Table Decor Source List
To get the look, click on the items below for direct links to the products. Where actual items were no longer available, I've provided similar options. If an item is out of stock but may be restocked, I left it on the list.
(This post contains some affiliate links for your convenience. Click here to read my full disclosure policy.)

Today's post is part of a blog hop hosted by my friend Bre from Rooms for Rent. Please be sure to visit all the other posts below for a ton of seasonal inspiration!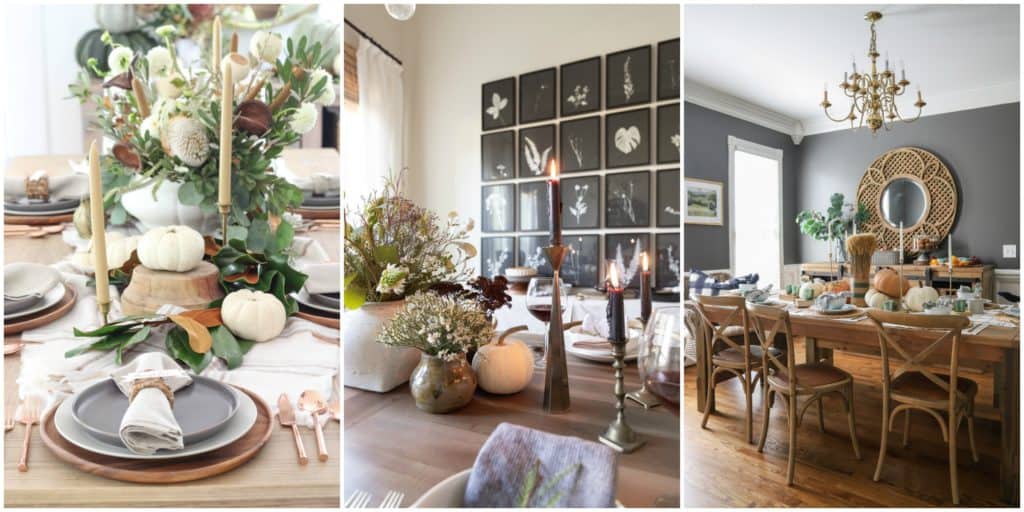 Rooms for Rent | Crazy Wonderful | The Turquoise Home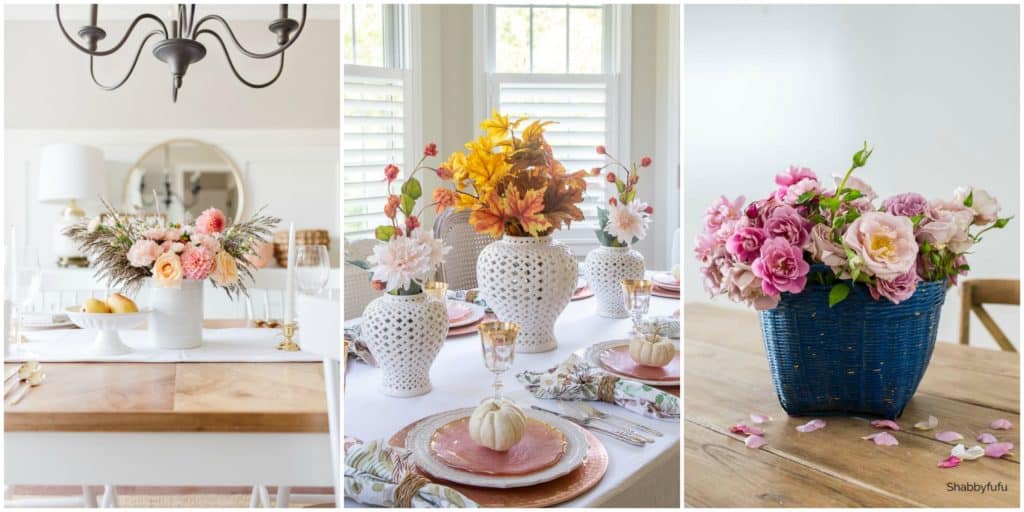 Nick + Alicia | Designthusiasm | Shabbyfufu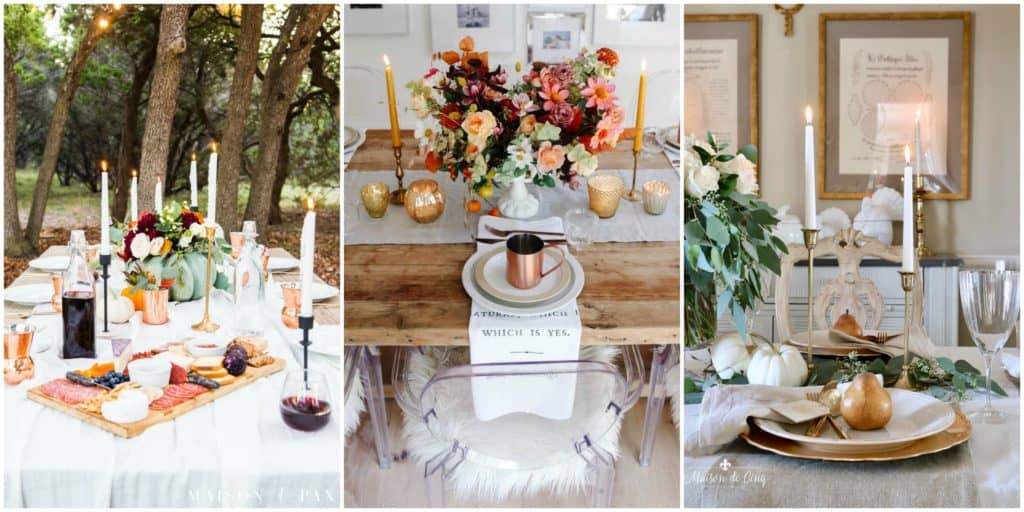 Maison de Pax | Modern Glam | Maison de Cinq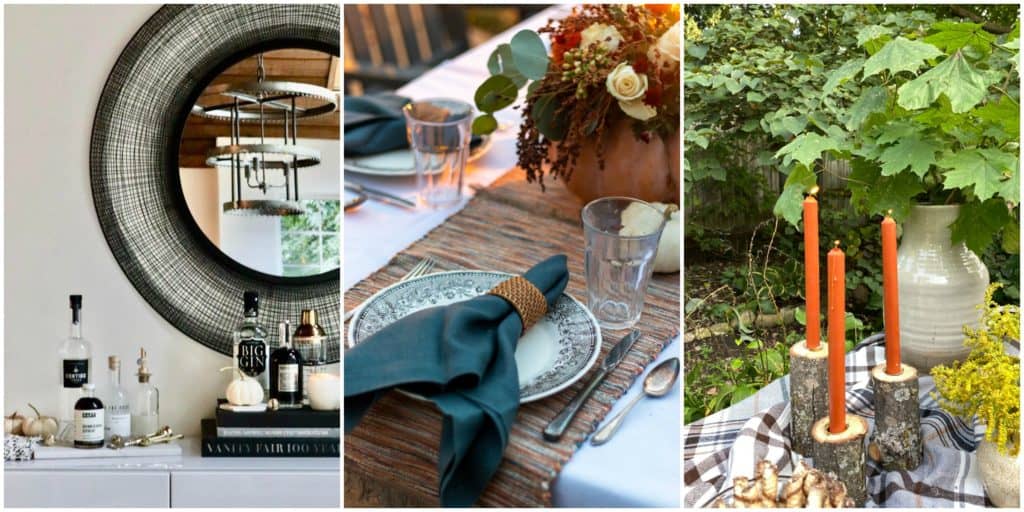 My Sweet Savannah | Shades of Blue Interiors | Jennifer Rizzo
IF YOU LIKED THIS POST, YOU MIGHT ALSO BE INTERESTED IN:
~•~
Have you visited the Designthusiasm shop? Click below to shop my favorites, my home and my Amazon shop. There are new items added every week. Happy shopping!!
Shop My Favorites Shop My Home Shop My Amazon Shop
~•~
Are you following Designthusiasm on social media? Please join us at the links below:
Pinterest | Instagram | Facebook | Twitter